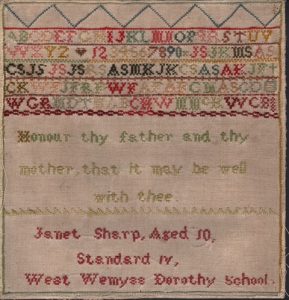 Among SWACS' collections is this charming embroidery sampler made by ten year old Janet Sharp, a pupil of West Wemyss 'Dorothy' Public School.
The design follows a Scottish tradition, with neatly executed alphabet and numerals, the initials of the maker's family (with those of the deceased sewn in black), and a moral or religious homily.
So who was Janet Sharp and when was it made? The only clue was the name 'Terras', and number '8902' pencilled on the backing card.
Fiona Wemyss of Wemyss School of Needlework (est. 1877), searched through the school's records and found that a Bella Sharp had attended from 1880-1891, and Grace Terras, from 1907-1912. Adding that they must have been good needlewomen to be kept on so long.
Were Bella and Janet Sharp related? How are the Terras family connected?
A long-serving member of SWACS, Nancy Carstairs, is a granddaughter of former East Wemyss builder, Robert Terras. He married Christina Murray, who had two sisters attend the school, Agnes and Isabella. Among the family artefacts is a sampler made by great aunt Isa.
Janet Sharp's sampler was copied to Nancy's sister, Mrs Christine Monaghan, who had researched her family history, and that of their close but unrelated family friend, Janet McKay Sharp (1874-1961). Janet was known as 'Auntie Jen', a former pupil at West Wemyss 'Dorothy' Public School. That identifies the maker and provides a date of completion of the sampler as 1884.
'Auntie Jen', is fondly remembered as "… a cheery lady, with thick, bright white hair worn in a bun", who always dressed in black. In later life Janet Sharp ran a Sweetie shop and made quilts. In pre nursing registration days both she and her mother had served as community midwives.
You can view the sampler from Sunday, 8 April (2pm – 4:30pm) on SWACS' first Open Day of the season, and on subsequent Open Days, when you can also sign up for a tour of the famous caves.
Pam Cranston
Archivist